LAPIS LUX COLLECTION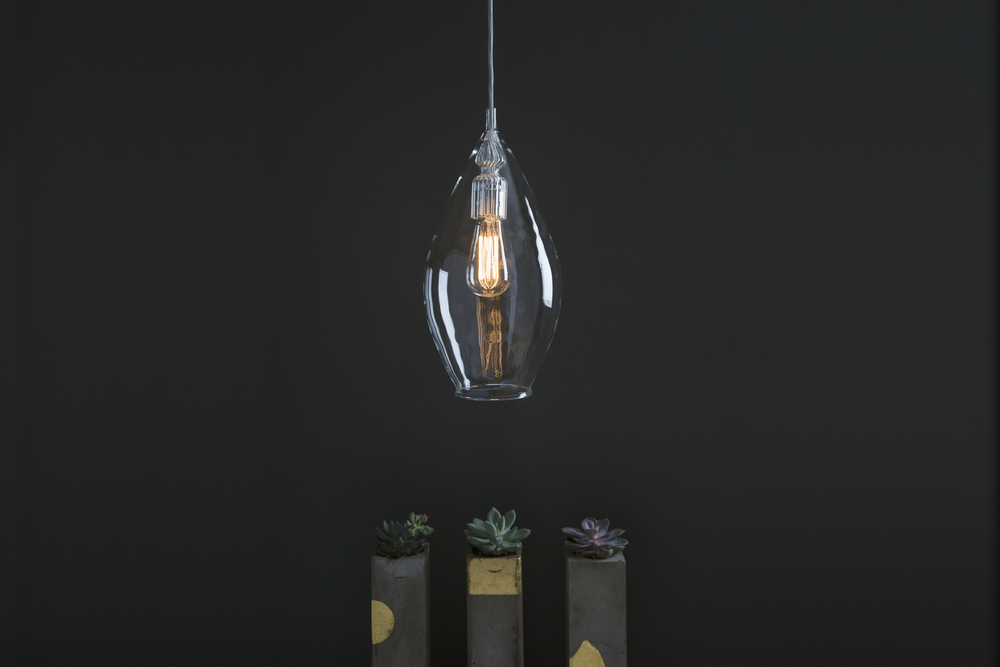 The Lapis Lux Collection marked a departure for the Sarah Colson Studio, pairing back the colour that had infused their previous two collections, Vitro Vas and Vitro Lux, this collection was certainly more neutral. The overall result is a more classic, luxurious range of lighting.
The process & inspiration
The collection offers lighting solutions that play with light refraction and look at the contrast of glass against stone. Fine art studio techniques were used to develop the forms and the basic colour pallet is taken from the simplicity of the materials in their raw state. Sarah continued to experiment with borosilicate glass but this time she used Conturax glass, a extruded form of the glass which has internal ribbing. This was then worked on a lathe to generate the variety forms available in the collection.
The stone used in the bases of the desk lamps was hand worked by a stone mason in Dorset and then cast in Portland stone resin to enable a more commercial price point.
The collection
The range has three distinct types of lighting solution, with at least two variations within each of these: the clustered chandelier, the single pendant and the desk lamp. The common theme that holds the collection together is the various use of texture and form to differentiate and compliment the individual parts of the whole. The collection includes:
Lapis Lux flask desk lamp

Lapis Lux column desk lamp

Lapis Lux tear single pendant

Lapis Lux curve single pendant

Lapis Lux vertical single pendant

Lapis Lux curve 3 cluster

Lapis Lux vertical 7cluster
The sculptural desk lamps have heavy tactile stone bases that contrast with the delicate glass shades. The soft shadows create a warm ambience, enhancing the beauty and simplicity of the materials. The pendants play with a variety of arrangements where the single can become a multiple.
Availability
The collection is available to purchase through the Sarah Colson Studio online shop and select stockists. It can be customised on a commission basis only; please contact the studio to discuss your specific requirements.