Vitro Lux 3 Pendant Cluster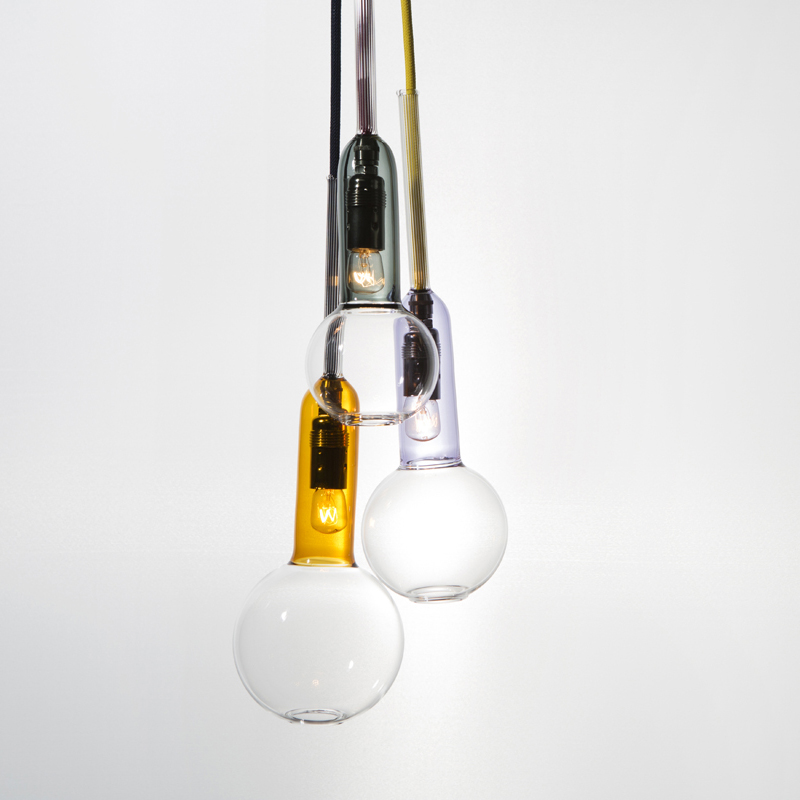 Vitro Lux 3 Pendant Cluster
A striking pendant cluster light featuring three glass orbs of varying sizes, their Conturax bodies each softly tinted in a different colour and paired with contrasting cables. Designed to be suspended from the ceiling by a single ceiling rose, the adjustable nature of the cabling at the point of installation ensures the light can be fitted in nearly any room.
This clustered lighting feature has the signature playful sophistication that is evident throughout the Vitro Lux Collection. The hand blown glass forms are elevated by their perfect yet simple nature and the warmth of the colours selected: yellow, grey and violet. The coloured glass orbs are complemented with maroon, yellow and dark blue cables. The Vitro Lux Collection won Sarah Colson the Elle Decoration Best Lighting Design Award in 2015. The 3 piece clustered pendant is photographed here with an elegant clear glass vase from the Vitro Vas Collection.
Dimensions
Individual orb diameters: 9 cm, 10.5 cm, and 12 cm

Cable lengths of each pendant: 32cm, 34cm, 35.5cm

Overall cluster dimensions: 16cm x 35.5cm - diameter x height
Materials
Borosilicate glass

3 x E14 silver lamp holders

Silver ceiling rose

Decorative cables in dark blue, maroon and yellow
Product customisation
All Sarah Colson lighting designs can be further customised, please email the Sarah Colson Studio to discuss your requirements and develop your creative ideas.
Delivery
All our products are lovingly made to order and will be with you in 2-6 weeks time. Please email us to confirm delivery times if you are working to a specific time frame. Do read our full delivery and returns details and check out our stockists.